(I apologize in advance for the frequent use of the word luggage in the text below)
I am a pretty frequent flyer and I have been flying various trips, ranging from 1 day to 1 week. I was always an advocate of traveling light, and in order to make my life easier I have spent quite some time in learning how to pack efficiently and making the most out of both my available storage space and the clothes I pack in the end. My typical trip luggage consists of a medium-sized laptop backpack with all electronics, gadgets and valuables loaded and a suitcase (cabin size or larger, depending on the trip).
Over the last years I have been witnessing a serious issue with carry-on luggage: I often see obviously oversized suitcases, multiple smaller bags (which in total are of larger size and volume compared to the typical cabin luggage) and people carrying so many bags from the airport's duty-free shops that it equals to an additional one or even two cabin-sized suitcases. This makes me wonder if carry-on luggage is actually checked at some point and if the related restrictions are applied.
(image source: https://qz.com/quartzy/1289295/the-basic-economy-era-heavier-carry-on-luggage-has-increased-risks-on-board/)
Of course it is obvious that the stricter the rules (and the fees) become regarding checked luggage, the more travelers tend to bring as (free) cabin luggage. On top of that, may of us had bad experiences regarding lost or destroyed checked luggage, or even had specific items "removed" by the ground staff handling the luggage at the airports. These two reasons alone lead many passengers to avoid checking in their luggage and take on board as much as possible.
Even though lost luggage is less of a problem, many passengers still don't trust an airline with their belongings, and they don't want to pay more for their bags.
At the same time, there is no actual inspection on the luggage that flyers bring on board. The whole process seems to have some "holes", as anyone who does not pass through the check-in counters (e.g. for printing their boarding passes) can go through the security controls with their multiple bags and/or oversized ones. These checkpoints are mostly concerned with the security aspect of luggage (e.g. prevent flyers from carrying any of the prohibited items) and not as much with the luggage size limitations posed by each airline. Indeed, I have never seen any security officer at these controls pointing out anything related to the number or the size of luggage that each passenger carries on board.
This situation is taken for granted, and in this context, I frequently witness passengers refusing to hand over their 2nd and/or 3rd bag when asked to do so before boarding on a fully-booked flight – they usually claim that they have things inside that they will need during the flight or valuables that they are afraid that might be stolen. The concept of the "laptop bag", which is allowed as an additional onboard item on top of the cabin luggage, is usually abused by flyers who make use of their over-sized and over-stuffed backpacks and refer to them as the "laptop bag".
This situation affects all passengers on board and raises three important issues:
Boarding (and leaving the aircraft) becomes painfully slow, and leads to a consequent delay of the flight (and offloading). Everyone needs time to store their luggage in the overhead lockers, pushing and pulling the luggage of others in order to make some room; multiply this by the number of those with oversized cabin luggage and you see the real dimension of the problem;
Passengers who checked in their luggage have a hard time finding space for their (usually smaller) cabin luggage, as most space is already occupied by the oversized and numerous cabin bags of the rest of the passengers. Plus, they feel like jerks, as in the end they realize that they could have also avoided checking in their luggage.
Last but not least, oversized and heavy cabin luggage can pose safety issues (e.g. falling on the heads of passengers).
The solution is simple: Airlines need to enforce the rules that they apply regarding cabin luggage. They have their nice metal boxes with the dimensions of allowed luggage so anything that doesn't fit in there should be taken away and checked in (even without charging for it). Alternatively, flyers with over-sized cabin luggage should pay a fee for getting it onboard. The same should go for those who carry their cabin luggage, a huge laptop bag and other bags with them – not more than one item per passenger with no exceptions – ok, maybe apart from some light duty-free shopping.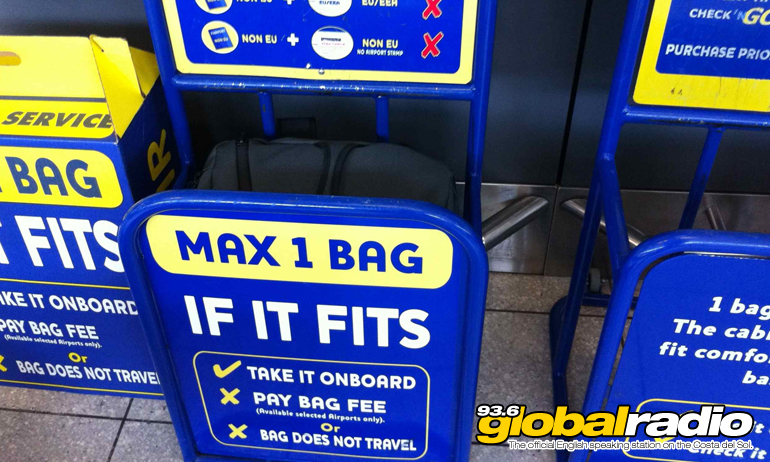 Everyone should comply with he regulations and restrictions, no matter if we find them fair or unfair. These are the rules of the game and we should play fair. Why am I saying this? Because I am fed up of seeing passengers misusing the cabin baggage allowance and having to wait for them to store and get their baggage until I get to my seat or get off the plane.
At the same time, I have to admit that checked in baggage fees are currently quite high (especially for non-business travelers) and should be better adjusted to the real cost of the service. For example, having to pay EUR 40-50 for a EUR 90 one-way ticket can hardly make sense. From one hand I understand flyers trying to "cheat" airlines by bringing onboard more than they are allowed to, but I cannot agree on doing this against fellow travelers, making their trip inconvenient.
P.S. I feel I have to mention the great work done in this context by various backpack and luggage designers and manufacturers (mostly individual ones) such as Cabin Max and Riut (their RiutBag X25 is a great example) in making the most out of the maximum allowed carry-on size; their work respects the restrictions posed by the airlines and at the same time benefits the flyers and travelers in general, who want to pack more with less.